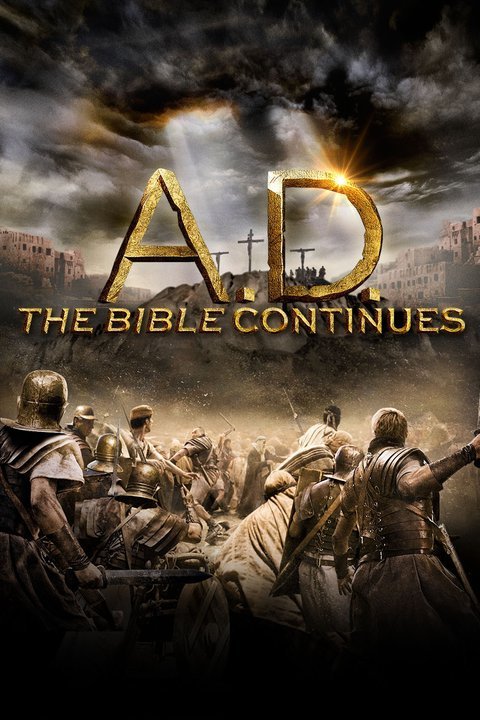 I don't think I have stopped talking about this miniseries since it first came out. It is amazing! It is touted as a continuation of The Bible miniseries, but it is so NOT. It is continual, it is in-depth, it goes into characters. I'm rambling, that's how much I love this miniseries!
Let me backtrack a bit. This series goes from the trial and crucifixion of Jesus to the blocking of the statue of Caligula in the Temple at about 40 AD, so about 7 years. It doesn't feel like 7 years pass in the series, I would have liked that a little better explained or shown somehow. There is a lot of the history that is glossed over, or just ignored for the continuity of the series. The series works well, as long as you don't start digging deeper into it.
The characters are amazing. Peter is a father, and we get to meet his daughter, and see the struggle between his divine calling and his paternal side. This paternal side of Peter also sets up a very deep hatred between him and Saul. I loved seeing Peter evolve during the series and truly embrace his appointment. I finally got to see how hard this must have been for Peter, to be responsible for this fledgling church in such a politically and religiously tempestuous place as Jerusalem. Saul (he hasn't changed his name yet in the series) is one of the most hated characters for me, and when the showdown between Saul and Peter happens at the camp, I don't think I have yelled so much at a television. I have never been a fan of Paul, and this series just made me love Peter so much more. There is an incredible underlying dynamic between Leah, the wife of Caiaphas, and Claudia, the wife of Pontius Pilate.I could just go on and on about the characters.
If you really want to get into the feel of what it was like in the decade following Jesus' birth, you have to see this miniseries. It's just amazing.
RATING:
5 of 5 stars
Watch Now:
Google Play
|
Amazon