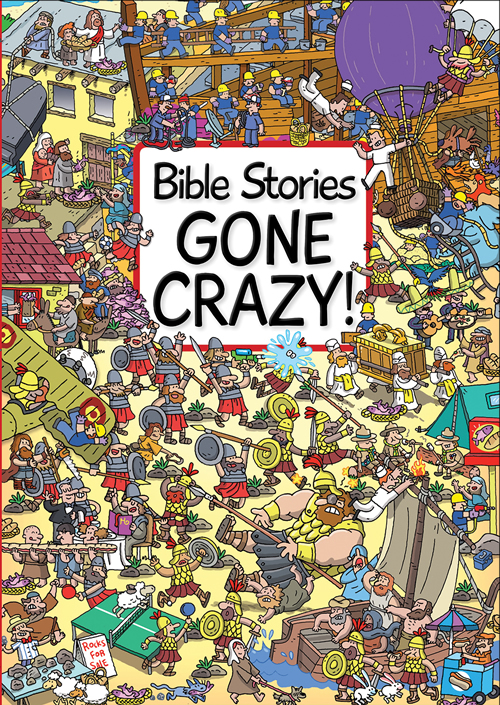 Title: Bible Stories Gone Crazy!
Series: none
Author: Josh Edwards and Emiliano Migliardo
Published Date: July 27, 2015
Publisher: Kregel Publishers
Format: Hardback
Pages: 24
ISBN: 9781781281901
Genre: children's Bible activities
Rating: 5 stars
Synopsis:
Eight Bible stories are depicted in bright color and comic, cartoony illustrations. There is a sentence or two explaining the scene at the top, and then details to spot, mistakes to find, and questions to answer along the sides of the picture, such as, "Did Noah's workmen REALLY have power tools?" and "How many rabbits are in the picture?" Children will love scouring the illustrations to find the answers and spot more amusing details in the busy artwork of Emiliano Migliardo.
The stories are Noah and His Great Ark, Moses Crossing the
Red Sea
, Joshua and the Fall of Jericho, David and Goliath, Daniel and the Lions, Jonah and the Big Fish, Feeding the 5,000, and Man Through the Roof.
My Review: I received a copy of this book in exchange for an honest review.
This is such a cute book. It features of the most well-known stories of the Bible that children have probably been exposed to. The pages are thick, but not board book thick, laminated and durable, so they will stand up to some pretty rough handling, even with sticky little fingers. The binding is sewn, not glued, to make it more durable from tearing. Each story is two pages, with an easy to read summary of the story and has a reference to where exactly you can find the entire story in the Bible. The illustration is in a cute, bright, fun format. Each story has 10 questions to get the child involved in really seeing the illustrations, and thinking for themselves.
Also, at the end of the book, which I didn't even notice till my 6 year old pointed it out to me, there's sort of an Easter Egg Hunt for a certain animal that I'm not going to disclose here. That made it even more fun, and made it so that we would go back and look for those too.
Overall, this is such a fantastic book for kids to get them to really delve deeply into these stories.