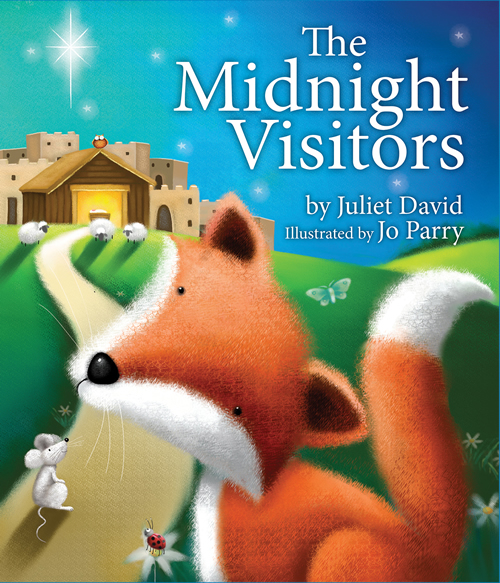 Title: The Midnight Visitors
Author: Juliet David, Jo Party (Illustrator)
Series: none
Published date: October 27, 2015
Publisher: Candle Books
ISBN: 9781781282335
Genre: Children's Biblical Fiction
Pages: 32
Buy it:
Amazon
Synopsis:

Miriam was glad to be warm and cozy. There were so many people in the town but it was nice and peaceful inside her cowshed. Little did she know that she would soon be joined by Midnight Visitors . . . and not just any old visitors!
Snuggle up and enjoy the warm, soft feel the art and narrative bring to this delightful Christmas picture book with a difference.

My Rating: 4 Stars

My Review: I received a copy of this book in exchange for an honest review.
This is an adorable book that revolves around a cow, on a cold night, right about to settle down for sleep. But, her rest keeps getting interrupted by visitors who need shelter from the cold. With some consideration for others' feelings, she graciously allows them to come in for the night.
But one leads to another, and another, and another, until finally a human couple show up to sleep in the barn with her. In the morning, what does she find in her feeding trough? A baby boy, just born, called Jesus, by his parents who have bedded down for the night with Miriam the cow.
The pictures are sweet and fuzzy, no harsh colors, lines, or feelings. My favorite illustration is that of the fox.
My daughters both loved it and it is just the right age range for my youngest to try to read herself.